It has been a newsy 2 weeks for the Jamaican St Catherine town of Old Harbour for an array of mostly positive reasons.
Negatively, there was a murder on Marlie Avenue, some kind of execution, not far from the new swanky constituency offices of MP Everald Warmington. The residents heard a barrage of gun shots at around 7.40pm and found the dead body of a man who was not from the area.
Days earlier the new local fire station (photo below) had its official opening back at its original home on South Street. It's been a long time coming and the wider community is relieved at this development.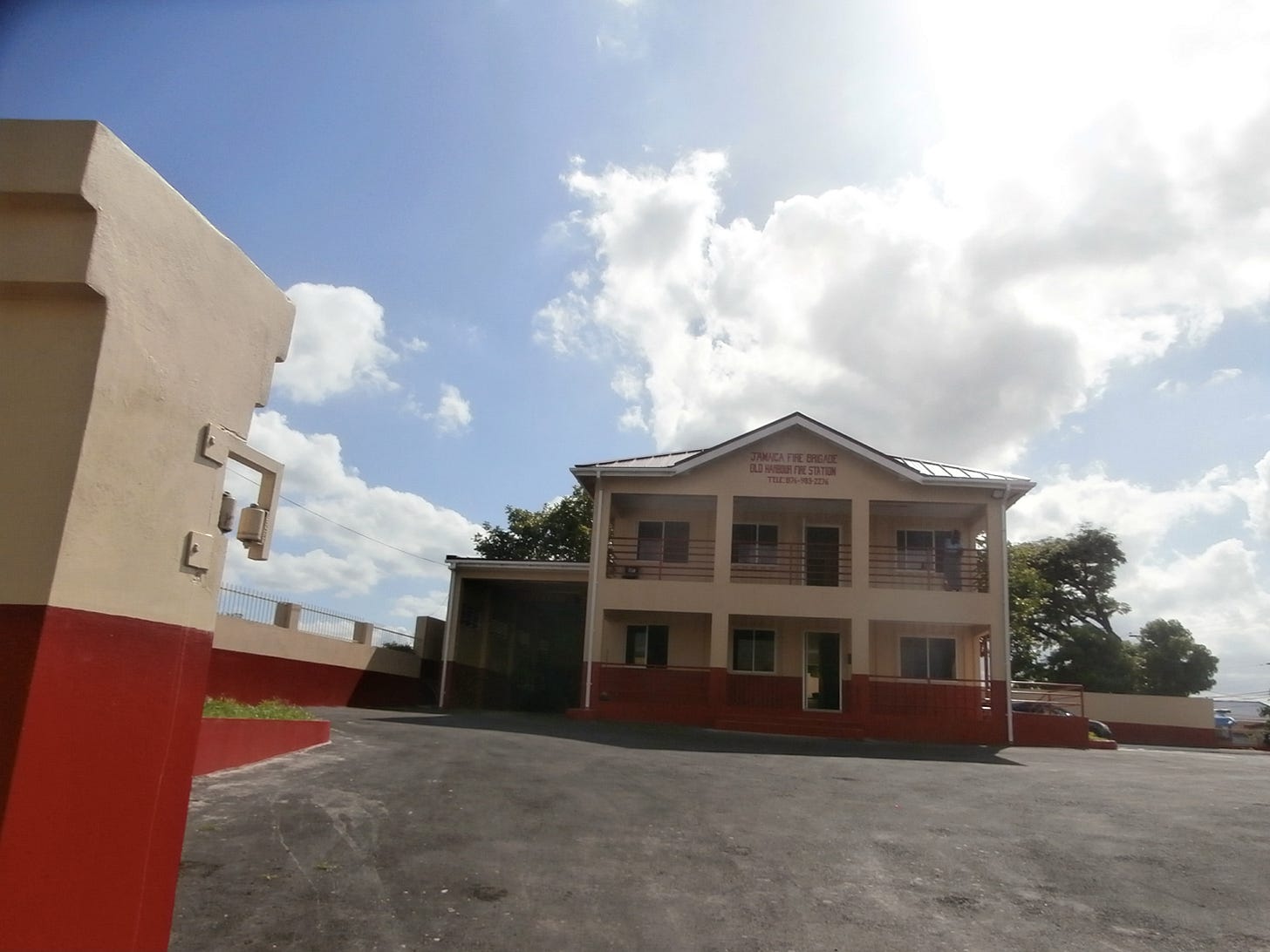 Last week, a news report by Dwayne Anderson (TVJ news) featured discussions with local business and community leaders in Old Harbour about the poor planning and development of the area. They spoke about decades of traffic congestion in the area and lack of proper infrastructure planning by local and central government officials to match the growth in housing and population.
Anderson spoke to Adrian Samuda, owner of the popular restaurant Kaluga restaurant and also Andrew Hancel, CEO and founder of the essential Old Harbour News magazine.
These endless housing developments in the community has never been closely matched by the appropriate levels of investment needed for its infrastructure. The poor facilities such as limited sidewalks/parking and poorly designed shopping plazas means many of those who migrate to reside in Old Harbour do most of their shopping elsewhere thus harming the local economy.
[When the first housing development was set up in Marlie Gardens in the late 1960s, Old Harbour had 1 high school (built to accommodate 700ish students). 50 + years later and with tens of thousands of homes built since then, Old Harbour still has the 1 high school]
Anderson's report also covered government plans for a new public health clinic/tier 5 hospital which is also long overdue and promised since the 1980s. The current clinic on the above mentioned Marlie Avenue is an embarrassment and an eyesore. Patients having to sit outside on the sidewalks (no shelter) for hours waiting for their names to be called is just wickedness.
In the 1970s many of us in the area found it bizarre that just 50 metres from that public health clinic was a pipe machine factory (now closed) over run with asbestos dust some of which was dumped casually all over the immediate area.
The new public health clinic will be constructed on the grounds behind the local post office leading on to Walkers Road and close to the new fire station. Now that post office structure needs serious upgrading too as does the local library.
Today the grounds behind the post office is occupied by residents who have resided there for decades (some illegally) and will be served eviction notices by the government.
Last Sunday evening Old Harbour was featured 3 times in a 90 minutes period on TVJ.
The Business Review (TVJ news) focused on Princess Richards, a young entrepreneur developing her catering business within the community. The report was filed by Javaughan Keyes of TVJ/RJR.
The popular weekly interview show, Profile, showcased Dr Rohan McCalla who grew up in Old Harbour. McCalla talked about his school days (Claremont Basic, Old Harbour Primary, St Catherine High) and his time at UTECH etc. McCalla completed his PhD studies -correct me if I'm wrong- on education psychology and is a senior HR executive at the utility regulator – O.U.R (Office of Utilities Regulation). It was a strange interview though as McCalla did not mention a single specific name of those who assisted on his career journey. Maybe the names were edited out of the final cut of the show. McCalla was also interviewed earlier in the week on TVJ's breakfast show Smile Jamaica.
A commercial ad about the vocational HEART NSTA Academy featured comments from a plumbing student from the Old Harbour campus.
The Jamaica Observer on Tuesday highlighted an article on leadership featuring Cheriese Walcott, CEO and commissioner of lands at the National Land Agency.
"Walcott grew up in Lionel Town, Clarendon, then moved to Old Harbour with her parents in order to complete secondary education at Clarendon College."
3 May was World Veterinary Day and The Gleaner carried a message from Dr Osbil Watson, the government's chief veterinary officer, who resides in Old Harbour. During a media presentation Denzil Miller, race secretary, at Caymanas Park sang the praises of Dr Wintorph Marsden, senior veterinary officer, for the sterling work he has done to support the horse racing industry. Marsden is also from Old Harbour.
How can I forget, local cricketer Rovman Powell who is developing a big hitting reputation in this season's Indian Premier League for the Delhi Capitals. While Powell's Jamaican team mate Andre Russell – who owns a restaurant (Russell's T20) in Old Harbour – is still swinging hard for his under performing KKR team.
Old Harbour has its challenges and has been stifled by poor planning & development as well as violent organised crime and high unemployment.
Despite those pressures of violent crime, the above stories proves that Old Harbour continues to nurture Jamaicans who go on to make a transformational impact on societies both at home and abroad.
…
[Congrats to the fastest man alive and his better half on the christening of their children at a local church in Old Harbour over the weekend when local athletic fans were focused on the Penn Relays in the US. His partner is from Old Harbour and part of the great man's ancestry is rooted 2ish miles away at Davis District.]
The local primary school at Davis, Bannister, Old Harbour includes former alumnis Adrian Samuda, Rovman Powell and Javaughan Keyes.