In Jamaica I Learnt
NOEL CHAMBERS
Noel Chambers, an 81 year old Rastafarian, died in prison after he was incarcerated for 40 years without trial. A report (you may find some images uncomfortable) by the Independent Commission of Investigators (INDECOM) revealed that Chambers was imprisoned from 1980 and died in November 2019. According to the report

"There seems to be some confusion at the Department of Correctional Services (DCS) regarding whether or not Mr. Chambers was convicted."
"At the time of his death he was in a deplorable physical condition. His clothing was filthy and his body showed evidence of chronic emaciation. He was covered withwhat appeared to be vermin bites, live bedbugs ('chink') and he showed signs of having bed sores"

According to INDECOM there are at least 9 other long term detainees who have not faced a trial including:

"GW has been incarcerated for 49 years, at the Court's Pleasure for an offence of murder. The inmate's psychiatric condition (fit or unfit for trial) is unknown. The last listed court date was 1970."
"KT has been incarcerated for 44 years, at the Governor General's Pleasure for an offence of shooting with intent. The inmate's psychiatric condition is unfit to plead. The last listed court date was 1975."

 "

that there are 146 mentally ill inmates who have been detained at the Governor General's/Court's Pleasure/Unfit to Plead-Awaiting Trial

at Tower Street, St. Catherine and Fort Augusta Adult Correctional Centres….15 of them who have been incarcerated for over 30 years"
The INDECOM report also highlighted overcrowding in cells and where certain inmates – with the blessing of the police – had their own cell key and control of the other cellmates which did lead to violent deaths.
In reaction the local evening news report on Noel Chambers…Attorney General Marlene Malahoo-Forte complained on social media..

…"

I understand we have to see some things to believe them, but media must assist society to regain sensitivity. Constantly putting the grossest of images (of Noel Chambers) up in our faces will only serve to further de-sensitize people. Mere warning does not actually help. What say ye

"
Thankfully journalist Dionne Jackson-Miller pushed back against Malahoo-Forte and emphasized that the images were necessary to ram home the reality of Mr Chamber's poor condition. Chambers' family agreed for the images to be published.
Chambers' sister Joyce Davy said  "I started to write letters. The first one was to the governor general. They answered me back, and they said that I must write to Peter Phillips because he was minister of security (2002-2007) at the time,….I wrote a letter to him, Phillips; they don't answer. I wrote a letter to K.D. Knight."

We all know that there are many inmates languishing in Jamaican prisons who are innocent but due to corruption, little to no legal representation and poverty their chances of freedom or even a fair trial were slim.  Worst if you were from the Rastafarian community, especially in 1960s-1980s as it did not matter if you were Peter Tosh or Ras Iyah, police brutality and false imprisonment were the norm.
ELSEWHERE IN JAMAICA
2 Black Lives Matters protests were held in Kingston. Donald Tapia, US Ambassador to Jamaica, met with the protestors.

The opposition People's National Party (PNP) alleged coup by 15 MPs to challenge Peter Phillips authority has been averted. The 15 are right to raise concerns on the leadership and party's direction given as some are in marginal seats and Phillips has been ineffective for quite some time. Yes, Phillips is recovering from cancer treatment but not having an acting Leader of the Opposition in place has left a PNP lacking authority and visibility.

Why Phillips is rarely in the parliament to

shadow

Prime Minister Andrew Holness? Whenever Holness is in parliament (early Tuesday evenings til very late) Phillips is hardly there.
So who in the PNP is shadowing Holness and his multiple of portfolios?

With the exception of Everald Warmington and Leslie Campbell government representatives of both the Public Accounts Committee (PAC) and the Public Administration and Appropriations Committee (PAAC) seem to take a vow of silence during the questioning of senior public servants on bad and alleged unscrupulous practices. These govt MPs just sit there for up to 3 hours and say nothing whilst on chatting on social media.
The Jamaica Observer was forced to apologise for this cartoon in Friday's edition.
Globally I Learnt
GEORGE FLOYD
Protest over George Floyd's murder wiped the pandemic news off the front pages and headlines.
The Black Lives Matters protests across the globe have been remarkable and uplifting to watch. Great to see so many young black high profile figures stepping up to the plate and having their say.
Actor John Boyega's speech in London was powerful, moving and necessary. Unlike some other speeches John spoke about the need to protect black women in particular who we all know suffer terribly from domestic violence.
I find many of those in the media complaining about the destruction of property during riots are the same folks who show little concern when the West drops bombs indiscriminately on towns in the Middle East, Africa and Asia.
The NFL now say players can take a knee during the playing of the US national anthem. More important for me is which NFL team will sign Colin Kaepernick?
Fox News outdid itself and even Trump with this graph. They apologised since but jeez.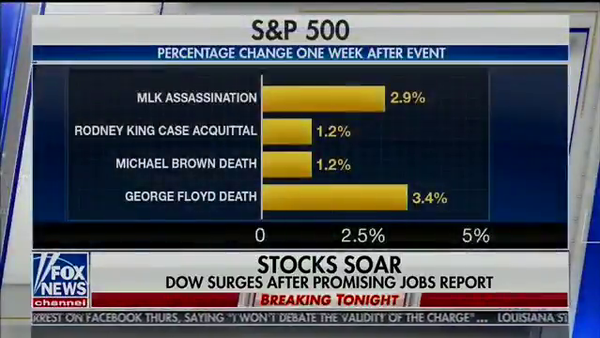 ELSEWHERE
While the world seeks justice for George Floyd, in Israel the family of 32 year old autistic Palestinian

Iyad Halak – killed by Israeli forces – do not believe he will get any fairness by the courts.

UK's National Crime Agency forfeited approx £6.4 million linked to a Liberian business account in the 1970s.